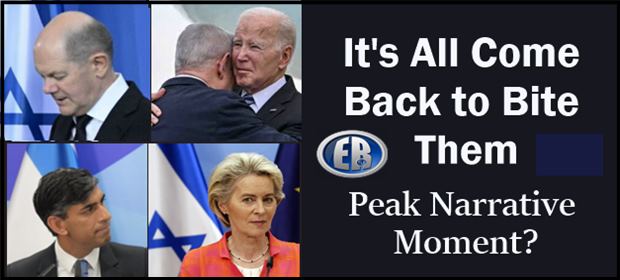 ER Editor: The peak narrative moment has come to this, we believe – western leaders (which one of them is real? which one of them isn't somebody wearing a mask or an example of CGI?) publicly hoisted on the Israel petard.
Who would ever have believed it would come to this, involving a global reveal on the abysmal conditions of the Palestinians?
As we've said for a long time now, nobody governs this way. 
… a parade of criminals and psychopaths
International law is making a comeback, which could have these people indicted just on the Palestinian issue alone.
Von der Leyen, whom we don't believe has her liberty still (perhaps not even her life – check out Real Raw News over 2 years for the takedown reports of eminent non-European figures) is under fire BY HER OWN PEOPLE for allegedly throwing her blind, wholehearted support behind Israel, too. See —
They're all piling on her —
More than 800 European officials have reportedly accused Ursula von der Leyen of "double standards"
European Commission President Ursula von der Leyen is turning a blind eye to Israel's "war crimes" in Gaza, hundreds of EU staffers wrote in a letter circulating within the bloc's institutions, the Irish Times reported on Friday. 

The European Commission is giving a "free hand to the acceleration and legitimacy of a war crime in the Gaza Strip," the letter signed by 842 people states. It was reportedly circulated among diplomats and staffers at the Commission and other EU bodies.

…

In a letter to von der Leyen, the signatories reportedly argued that she had unconditionally backed Israel without consultations with EU member states, while others suggested it was incumbent upon Brussels to use its influence to push for a peaceful settlement to the decades-old conflict and demand the reimposition of "basic human rights and international law" in Palestine.

One diplomat who signed said they were "embarrassed" by von der Leyen's belligerent tone, lamenting her abandonment of "the values on which the EU was built." 

"As a European, I do not want any war crimes supported in my name," another signatory wrote.
***
The narrative-psyop component also extends to the Israel-Gaza conflict right now. Backchannels say that no-one – MSM or indy media – is getting real intel on what is happening over there. Fog of war? We honestly have no idea if claims about this or that bombing, this or that number of dead and wounded are real on either side. Fake, recycled media video and images have already been noted since the October 7 invasion from Gaza by combined Palestinian forces.
********
STRATEGIC CULTURE FOUNDATION EDITORIAL
Western leaders lining up with the Israeli regime in its genocidal barbarity are fully complicit in that genocide.
Western leaders have been traipsing to Tel Aviv over the past week, vowing to give their full support for Israel even as the Israeli regime wantonly wages a genocidal war on Palestinians.
It is absolutely shocking that the world is witnessing such mass killing of civilians and yet Western governments and news media seem to do everything to justify, minimize and cover-up the atrocities. Cover-up they should because they are complicit in this horrific slaughter.
U.S. President Joe Biden, as well as Britain's Rishi Sunak, Germany's Olaf Scholz and the European Union chief Ursula Von Der Leyen, are among the Western leaders who have blood dripping from their hands.
They talk about Israel's "right to self-defense" while the Israeli military pulverizes Gaza with indiscriminate air strikes and shoots Palestinians dead in the ghettoes of the West Bank. The Palestinian people in both enclaves are being targeted with genocidal ferocity as Israeli leaders denigrate them as "human animals".
In Gaza for the past two weeks, a population of 2.3 million has been held under total siege without water, food or electricity. Nowhere is safe in the coastal area as U.S. and UK-supplied Israeli bombs rain down on homes, refugee centers, hospitals, schools, churches and mosques. This is barbarous collective punishment meted out on innocent civilians and a gross violation of the Geneva Conventions. It is state terrorism writ large. (ER: And it's been going on for a long time.)
And despite the daily horror, Western leaders say nothing except repeat the cynical mantra that Israel has the right to self defense in response to the murderous mass attack by Hamas militants on October 7. Over 1,400 Israelis were murdered in those Hamas gun and rocket attacks. Those killings can in no way be remotely used to justify the subsequent slaughter in Gaza and the West Bank against civilians.
What needs to be recognized is that the Israeli state has been waging a murderous occupation against Palestinians for decades since the violent establishment of the state in 1948. The sordid inception of Israel was a deal worked out by British and American imperialism to cover up for their own guilt of anti-Semitism and manipulation of Arab nations. The Palestinians paid the price and continue to pay the price.
Western states, primarily the United States, have given Israeli regimes a license to continue and expand their occupation in flagrant violation of international law. Washington has used the Israeli state as a garrison to project its imperialist power in the oil-rich Middle East. When that crime is resisted by Palestinians, the acts of defiance are desperate and bloody. No one can condone the killing of innocent civilians. But one has to understand the systematic conditions for violence and the hegemonic power play that ensures no peace can ever be achieved.
Ending the cycle of violence means ending the Western-sponsored Israeli occupation and genocidal repression against the Palestinians. The denial of national rights and statehood to Palestinians is unacceptable but this prolonged denial is partly why there is no peace in that region.
Russia, China and most other nations of the world recognize that there must be justice for Palestinians if there is ever to be peace.
For Western leaders to keep invoking Israel's right to self-defense is a cynical distortion of reality. An illegal, brutal occupying regime does not have such a right. It is an oxymoron and an insult on top of injury.
Biden and the parade of other Western politicians to Israel to embrace the warmongering regime of Benjamin Netanyahu is a disgusting spectacle. It is a parade of criminals and psychopaths.
Netanyahu had the gall to describe this week's situation as "the world's darkest hour". How right he is, but for completely opposite reasons.
When men, women and children are being butchered and the killers are openly backed by Western governments then that situation certainly amounts to a "darkest hour".
The war crimes being committed in Gaza and the West Bank are comparable to the murderous conduct of the Nazi Third Reich. And yet the Zionist regime carrying out the present-day genocide shamelessly, relentlessly invokes the Nazi Holocaust for its supposed credentials. Netanyahu called Hamas the "new Nazis".
Western leaders lining up with the Israeli regime in its genocidal barbarity are fully complicit in that genocide. The Western public and the rest of the world can see the real and ugly quality of the United States and its allies who have indulged in duplicity and deceit for so long.
Biden on returning to Washington after giving Tel Aviv license to expand its mass murder had the brass neck to address his nation in a prime-time speech from the Oval Office. He announced his administration was seeking to give $100 billion in "emergency aid" to Israel and the Nazi regime in Kiev fighting the proxy war against Russia. Biden called this a "smart investment".
In his mumble-filled, incoherent televised address, Biden said: "American leadership is what holds the world together."
How deluded and insane can one be?
More and more people across the world are abhorred by the lies and blatant warmongering by the United States and its coterie of Western lackeys.
This week, the U.S. vetoed a resolution at the United Nations Security Council calling for a ceasefire in Gaza.
Washington and its NATO partners have repeatedly refused to countenance a ceasefire in Ukraine, preferring that proxy war to continue to the "last Ukrainian" after nearly 500,000 troops were killed there in the past 18 months.
Absurdly, Biden compared Russian leader Vladimir Putin with Hamas in "trying to destroy democracy".
Biden and his Western lackeys, and the fascist regimes they support in Tel Aviv and Kiev, are destroying any last vestige of morality and international law.
Perhaps one good thing that might come out of this appalling mayhem in the Middle East and Ukraine is the clarity for the world to see who and what are the real enemies of world peace: Western rogue regimes and their warmongering imperialism.
The West's self-aggrandizing illusions are being shattered before the eyes of the world. And that's eminently good and necessary if this world is to ever make progress towards peace, justice and the comity of nations.
ER: Cue Trump?
************
Featured image, von der Leyen: Amir Cohen/AFP via Getty Images
Featured image, Sunak: Amos Ben Gershom/GPO
Featured image, Scholz: Tobias Schwarz/AFP
••••
The Liberty Beacon Project is now expanding at a near exponential rate, and for this we are grateful and excited! But we must also be practical. For 7 years we have not asked for any donations, and have built this project with our own funds as we grew. We are now experiencing ever increasing growing pains due to the large number of websites and projects we represent. So we have just installed donation buttons on our websites and ask that you consider this when you visit them. Nothing is too small. We thank you for all your support and your considerations … (TLB)
••••
Comment Policy: As a privately owned web site, we reserve the right to remove comments that contain spam, advertising, vulgarity, threats of violence, racism, or personal/abusive attacks on other users. This also applies to trolling, the use of more than one alias, or just intentional mischief. Enforcement of this policy is at the discretion of this websites administrators. Repeat offenders may be blocked or permanently banned without prior warning.
••••
Disclaimer: TLB websites contain copyrighted material the use of which has not always been specifically authorized by the copyright owner. We are making such material available to our readers under the provisions of "fair use" in an effort to advance a better understanding of political, health, economic and social issues. The material on this site is distributed without profit to those who have expressed a prior interest in receiving it for research and educational purposes. If you wish to use copyrighted material for purposes other than "fair use" you must request permission from the copyright owner.
••••
Disclaimer: The information and opinions shared are for informational purposes only including, but not limited to, text, graphics, images and other material are not intended as medical advice or instruction. Nothing mentioned is intended to be a substitute for professional medical advice, diagnosis or treatment.