Israel lobby forces second candidate out of French legislative election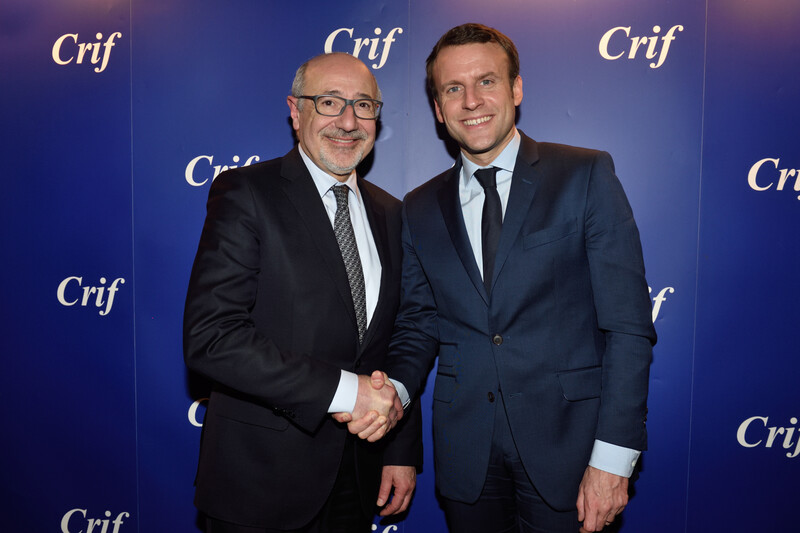 France's powerful Israel lobby group CRIF has forced another candidate to quit next month's parliamentary elections.
CRIF, a strongly pro-Israel Jewish communal organization, announced that William Tchamaha (pictured below) has been dropped by President Emmanuel Macron's La République en Marche party due to an "anti-Zionist" tweet.
He's the second candidate forced out for expressing support for Palestinian rights and international law.
CRIF had demanded that Macron's party drop Tchamaha, who was running for a seat in the Seine-Maritime region, because of a tweet he posted on 8 February calling for Israel to be held accountable for its violations of international law.
Tchamaha's tweet included a link to a news story on UN criticism of a new Israeli law to facilitate the theft of Palestinian land by settlers.
Tchamaha has apparently deleted his entire Twitter account.
Imposing discipline
Earlier this month, Macron's party dumped another candidate, TV producer Christian Gerin (pictured), after complaints from CRIF and another Israel lobby group LICRA.
Gerin had posted tweets critical of the growing role CRIF plays in French politics and in support of holding Israel accountable.
CRIF's president Francis Kalifat has a history of extremism. He was a member of the far-right Zionist youth movement Betar, known for its violence.
Macron's party has put up a slate of political novices, more than half of whom have never held any political office.
Tchamaha, an education counselor, identified as a left-wing candidate, defending the principles of "humanism and solidarity."
CRIF and other Israel lobby groups appear to be trawling through candidates' social media accounts in an effort to impose political discipline and send a message that no criticism of Israel will be tolerated.
So far Macron, who rose to power promising change, has demonstrated that he is all too willing to comply.
As a candidate he vowed to continue his predecessor's crackdown on the boycott, divestment and sanctions movement for Palestinian rights.
France seeks extradition of Jewish extremist
Meanwhile, French authorities are showing a rare willingness to challenge Israel in the case of the French Jewish extremist Gregory Chelli (pictured).
Chelli, who goes by the name Ulcan, operates from Israel. He has been accused of a series of hoax calls that have resulted in police violently raiding innocent people's homes.
In the most notorious such incident, Chelli targeted the family of French journalist Benoit Le Corre, possibly precipitating the death of his father.
The Tel Aviv newspaper Haaretz reported on Sunday that Chelli, who lives in a beachfront apartment in the city of Ashdod, is the subject of a French extradition request on 50 criminal charges.
Chelli is now at the "at the heart of a dispute between France and Israel, which is refusing to extradite him, despite serious pressure and even a special visit here by the French foreign minister," according to Haaretz.
Implicated in death
In July 2014, Chelli, impersonating police, allegedly called Le Corre's elderly parents to tell them their son had been killed in a car accident.
Two days later, Chelli called police impersonating Benoit Le Corre's father and claimed to have killed his wife and son. Armed police raided the home in the middle of the night. Five days later, the elder Le Corre had a stroke that put him in a coma and took his life a few months later.
Following his death, Paris prosecutors opened an investigation for wilful violence resulting in the death of person without intent, a charge that carries upto 15 years in prison.
A medical examiner's report, published in part by the website Rue 89, established that the elder Le Corre's fatal illness had been precipitated by stress, indicating a possible direct link to Chelli's harassment of the family.
Chelli's actions were reportedly reprisals for Le Corre's reporting on Chelli's hacking attacks on pro-Palestinian websites.
Safe haven for extremists
Israel has a long-standing policy of refusing to extradite extremists, including those implicated in violence and killings.
Another French Jewish extremist, Joseph Ayache, has escaped prison by fleeing to Israel. Ayache, the leader of a violent gang of Zionist extremists was sentenced by a Paris court in 2016 to a year in prison.
He had been found guilty of leading a series of "extremely violent and coordinated attacks" against pro-Palestine activists in Paris in 2012.
Members of the Jewish Defense League, thought to be behind the 1985 California assassination of Palestinian American peace activist Alex Odeh, fled to an Israeli settlement in the occupied West Bank.
Keith Fuchs and Andy Green, the FBI's prime suspects, are thought to be living in an extremist settlement near the Palestinian city of Hebron.
Israel is also reportedly refusing to extradite to the US the Israeli accused of making hundreds of bomb threats to Jewish institutions, causing terror and panic over an upsurge of anti-Semitism since the election of Donald Trump.
Given that Israel is willing to thumb its nose at even its biggest patron, the United States, there seems little chance that France, habitually so eager to appease Israel, will be any more successful in securing justice for the victims of Chelli's alleged crimes.
************
ER recommends other articles by The Electronic Intifada