ER Editor: A two-fer from RT and The European Conservative.
Sahra Wagenknecht is a left-leaning politician with a good dose of reality in her worldview, in our opinion. She well understands the problems of unchecked migration on the working classes, for example, and how globalist/liberal policies hurt the ordinary citizen.
Wagenknecht has been a mover and shaker on the German political scene for a while. See this 2018 article on her vision —
***
The article below follows up from this from September 12, 2023 —
***
The Robert Semonsen article below indicates which voting demographic Wagenknecht's new party is aiming at: '"people with low and mid-range incomes, pensioners, unionists, and works council members," adding groups such as these are presently underrepresented in German politics.' Definitely a significant part of the population that globalists have deliberately left to rot.
********
Germany: Wagenknecht Announces New Party To "Restore Rationality"
Wagenknecht said, "We decided to found a new party … otherwise we probably won't recognize our country in ten years."
ROBERT SEMONSEN for EUROPEAN CONSERVATIVE
Following a great many months of speculation that she would do so, the charismatic, ever-controversial Sahra Wagenknecht, who served as a member of the German Bundestag for the hard-left Die Linke Party, has finally pulled the trigger and officially announced both her departure from the increasingly left-liberal party and plans to form a new party.
Sahra Wagenknecht (C), politician of Germany's left-wing Die Linke party, leaves the venue after addressing a press conference about her planned foundation of a new party, on October 23, 2023 in Berlin. Wagenknecht presented her new association, called BSW for "Bündnis Sahra Wagenknecht" (Sahra Wagenknecht Alliance), conceived as the first step towards the creation of a party, probably early next year.
Photo: John MACDOUGALL / AFP
Speaking in front of a packed press conference in Berlin on Monday, October 23rd, Wagenknecht said: "We decided to found a new party because we are convinced that things cannot continue the way they are currently," adding that "otherwise we probably won't recognize our country in ten years."
She slammed the policies of the old parties that have led to "unchecked migration," which she criticized for aggravating pre-existing "problems in [German] schools and especially in poorer neighborhoods." Furthermore, Wagenknecht emphasized that the primary impetus for creating her own political party was to restore rationality in both politics and economic matters.
She argued that the reduction in industrial value creation in Germany is largely attributed to the left-liberal 'traffic light' coalition's sanctions policy against Russia, and blamed the country's international isolation on its "foreign policy of finger-wagging."
Another fundamental aim of the party, Wagnknecht said, is to broaden the "opinion corridor" in Germany since, at present, political debate in the country is conducted in a way that "anyone who deviates from the dominant opinion bubble is quickly defamed and stigmatized."
"That is unworthy of a democracy," Wagenknecht declared. She also lamented the "pressure to conform" and pointed to opinion surveys that revealed nearly half of the Germans no longer dare to speak their minds out of fear of political, economic, and social retribution.
The association, called the Sahra Wagenknecht Alliance for Reason and Justice, is intended to act as a springboard to launch the new political party, which aims to field candidates for the first time in the 2024 European elections, and then in elections in the eastern states of Saxony, Thuringia, and Brandenburg later the same year.
Robert Semonsen is a political journalist for The European Conservative. His work has been featured in various English-language news outlets in Europe and the Americas. He has an educational background in biological and medical science. His Twitter handle is @Robert_Semonsen.
********
German MP announces formation of new anti-war party
Prominent Left Party politician Sahra Wagenknecht claims the current German government is the worst on record
RT
Germany will have a new left-wing political grouping in 2024 after prominent Left Party MP Sahra Wagenknecht announced the formation of her own party. Its platform will include the normalization of relations with Russia and a peace-oriented foreign policy.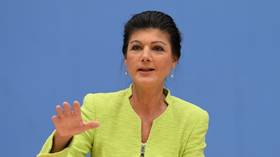 .
Wagenknecht broke the news during a press conference in Berlin on Monday, saying she and fellow Left Party defectors had "decided to establish a new party." Explaining the need for a new political force, she argued that things "can't continue like this" or Germans "will probably not recognize our country in ten years."
The politician plans for the new party to run candidates in regional elections in the eastern regions of Saxony, Thuringia and Brandenburg, as well as in the European Parliament election next year.
A fresh poll commissioned by Bild am Sonntag indicated that some 27% of Germans would not rule out voting for Wagenknecht's new political force.
Until the party's official formation at the start of 2024, Wagenknecht and nine other Bundestag colleagues who resigned from the Left Party said they wished to keep their current seats. Party leadership has, however, already indicated that the defectors could lose their mandates much earlier. In September, Wagenknecht hinted at her plans to branch out, claiming that many Germans felt that none of the existing political forces represented their views.
Not long after that, the "Sahra Wagenknecht Alliance – for reason and justice" was registered with the aim of laying the groundwork for the establishment of a new party. The politician clarified that the Left Party had, in her opinion, become increasingly irrelevant. She also blasted Chancellor Olaf Scholz's government on Monday as the "worst government in the history of the federal republic."
Wagenknecht said she would seek to preserve Germany's "economic strengths" as well as work toward more social justice. With respect to foreign policy, Berlin should switch to diplomacy rather than weapons deliveries when dealing with conflicts, the politician insisted.
She has been a vocal critic of Scholz's policies toward Moscow over the Ukraine conflict, arguing that the current approach risks leading to a global, and potentially nuclear conflict. Berlin, according to Wagenknecht, should assume the role of a peacemaker.
Commenting previously on the EU's anti-Russia sanctions, the politician has repeatedly claimed that the punitive measures are doing more harm to the German economy than to the Russian one, and thus should be lifted.
Wagenknecht is also a prominent critic of the European Union's "elite project" and NATO, and argues for more independence for national states.
************
••••
The Liberty Beacon Project is now expanding at a near exponential rate, and for this we are grateful and excited! But we must also be practical. For 7 years we have not asked for any donations, and have built this project with our own funds as we grew. We are now experiencing ever increasing growing pains due to the large number of websites and projects we represent. So we have just installed donation buttons on our websites and ask that you consider this when you visit them. Nothing is too small. We thank you for all your support and your considerations … (TLB)
••••
Comment Policy: As a privately owned web site, we reserve the right to remove comments that contain spam, advertising, vulgarity, threats of violence, racism, or personal/abusive attacks on other users. This also applies to trolling, the use of more than one alias, or just intentional mischief. Enforcement of this policy is at the discretion of this websites administrators. Repeat offenders may be blocked or permanently banned without prior warning.
••••
Disclaimer: TLB websites contain copyrighted material the use of which has not always been specifically authorized by the copyright owner. We are making such material available to our readers under the provisions of "fair use" in an effort to advance a better understanding of political, health, economic and social issues. The material on this site is distributed without profit to those who have expressed a prior interest in receiving it for research and educational purposes. If you wish to use copyrighted material for purposes other than "fair use" you must request permission from the copyright owner.
••••
Disclaimer: The information and opinions shared are for informational purposes only including, but not limited to, text, graphics, images and other material are not intended as medical advice or instruction. Nothing mentioned is intended to be a substitute for professional medical advice, diagnosis or treatment.