ER Editor: We remind readers that RT has been functioning as a mouthpiece for the 'deadly virus,' 'vaccines work,' vax passport narrative. We also remind readers of some of the latest findings on the effects of these vaccines in children, namely, heart problems among others. See the following from Children's Health Defence:
COVID Vaccine Injury Reports Among 12- to 17-Year-Olds More Than Triple in 1 Week, VAERS Data Show
18 Connecticut Teens Hospitalized for Heart Problems After COVID Vaccines, White House Says Young People Should Still Get the Shots
Former Pfizer VP Tells RFK, Jr.: Young, Healthy People Shouldn't Be Coerced Into Taking 'Experimental' Vaccines
Note the sheer bastardization of language in the second story, as the EU's Ursula von der Leyen, a doctor herself no less, says that vaccine passports permit the FREE movement of people. Obviously, the word 'free' no longer holds the same meaning.
********
EU drugs regulator approves Pfizer's Covid-19 vaccine for use in children aged 12 to 15
RT
The European Medicines Agency (EMA) has approved the Covid-19 vaccine made by US-German partnership Pfizer-BioNTech for children aged 12 to 15, allowing kids in the bloc to be vaccinated against the virus for the first time.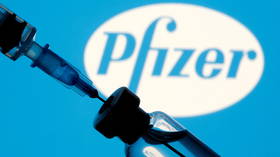 New data shows that the 'Comirnaty' vaccine is safe for the younger cohort, the EMA's head of Biological Health Threats and Vaccine Strategy, Marco Cavaleri, told a press conference on Friday.
Comirnaty is the brand name of the US-German jab. It will be administered the same way as it has been so far for people aged 16 and over, with two doses administered at least three weeks apart.
The EMA's human medicines committee based its decision to approve the vaccine on a US clinical trial of around 2,000 children aged 12 to 15.
Trial data showed that the immune response in this age group was "similar or even better" than that of young adults given the vaccine, Cavaleri said.
He added that the jab was "well-tolerated" and side effects were similar to those already witnessed among older recipients.
A final decision on the vaccine still needs to be made by the EU itself, before it will be up to individual member state governments whether or not they roll out the jab to younger teenagers.
The move follows the US Food and Drug Administration's decision earlier this month to approve Pfizer's vaccine for children aged 12 to 15.
On Friday Cavaleri also said the EU was working to increase production capacity for Pfizer in Europe, saying that further vaccine manufacturing sites would be approved as soon as possible to boost the rollouts of member states.The US regulator said clinical trial data showed the vaccine was 100% effective in preventing Covid-19 in children of this age group.
Earlier in 2021 the bloc was hit by a shortfall in jabs after AstraZeneca fell short of delivery targets to the EU, citing European production issues.
In January Pfizer also shipped fewer doses to some EU nations than had been expected while the company carried out upgrades to boost its production capacity.
https://www.rt.com/news/525094-eu-approves-pfizer-vaccine-children/
********
Vaccine passports for cross-border travel take off in Europe as US looks 'very closely' at concept, but promises 'no mandates'
RT
Greece and Denmark have become the first to launch Covid-19 vaccine passports for travel within the EU, as the bloc pushes for all member states to adopt the system and US officials say they're considering the idea.
The two countries rolled out the new passes on Friday in separate press conferences, with Greek Prime Minister Kyriakos Mitsotakis calling them a "fast lane to facilitate travel" in Europe and help "restore freedom of movement."
While some EU states, including Denmark, had already implemented their own internal vaccine certificates, the new passports can be used for cross-border travel, in line with a March proposal by the European Commission.
The Greek and Danish passports are managed through a smartphone app that shows a user's vaccination status and the last time they were tested for coronavirus. Both also use a scannable QR code to quickly relay the information, though paper versions will also be made available.
While the European Parliament has yet to formally approve the passport scheme, several countries have already moved ahead. In addition to Greece and Denmark, Ireland also announced plans on Friday to adopt an international Covid pass by July 19, while the UK's National Health Service recently updated its digital passport app for cross-border travel. The EU has pressed for all 27 of its member states to adopt a bloc-wide passport by July 1, agreeing to the plan in principle last week ahead of the summer tourism season. The push comes after the bloc called for an easing of the travel restrictions imposed at the height of the pandemic, recommending that members allow foreign visitors if they are fully vaccinated.
The passports will also be valid in non-EU nations Iceland, Liechtenstein, Norway, and Switzerland, according to the European Commission.
As the passes gain traction across Europe, US officials have said they are also eyeing the concept for foreign travel, with Department of Homeland Security (DHS) chief Alejandro Mayorkas telling ABC on Friday that the Biden administration is "taking a very close look at that."
A DHS spokesperson later clarified, however, that there would be no "federal mandate" for any kind of vaccine pass, adding that the government would help Americans only to meet entry requirements in other countries.
"That's what [Mayorkas] was referring to – ensuring that all US travelers will be able to easily meet any anticipated foreign country entry requirements," they said.
The subject has become a controversial one in the US, with a number of states banning 'vaccine passports' altogether, some condemning them as draconian and posing a threat to privacy. Others, such as New York and Hawaii, have brought them into use. Administration officials have previously stressed that no federal vaccine pass would be imposed for travel within the US, saying that the White House would instead work with companies developing passports in the private sector to create standards for their use. The Centers for Disease Control and Prevention is slated to help decide which organizations will credential and issue the passes, however, according to internal documents obtained by the Washington Post in March.
Brussels, meanwhile, has indicated that some form of a vaccine certificate may be needed for Americans seeking to visit the EU in the coming months, requiring them to prove they were fully immunized with one of the four vaccines authorized in the bloc. Three of those are also approved in the US, with the exception of AstraZeneca's inoculation.
"The Americans, as far as I can see, use European Medicines Agency-approved vaccines," Ursula von der Leyen, the president of the European Commission, told the New York Times in a recent interview, noting that this would enable "free movement" within the EU. She gave no timeline for when the travel rules would be hammered out, however, leaving it unclear when tourism from the US will return in earnest.
************
https://www.rt.com/news/525131-eu-us-vaccine-passports/
••••
The Liberty Beacon Project is now expanding at a near exponential rate, and for this we are grateful and excited! But we must also be practical. For 7 years we have not asked for any donations, and have built this project with our own funds as we grew. We are now experiencing ever increasing growing pains due to the large number of websites and projects we represent. So we have just installed donation buttons on our websites and ask that you consider this when you visit them. Nothing is too small. We thank you for all your support and your considerations … (TLB)
••••
Comment Policy: As a privately owned web site, we reserve the right to remove comments that contain spam, advertising, vulgarity, threats of violence, racism, or personal/abusive attacks on other users. This also applies to trolling, the use of more than one alias, or just intentional mischief. Enforcement of this policy is at the discretion of this websites administrators. Repeat offenders may be blocked or permanently banned without prior warning.
••••
Disclaimer: TLB websites contain copyrighted material the use of which has not always been specifically authorized by the copyright owner. We are making such material available to our readers under the provisions of "fair use" in an effort to advance a better understanding of political, health, economic and social issues. The material on this site is distributed without profit to those who have expressed a prior interest in receiving it for research and educational purposes. If you wish to use copyrighted material for purposes other than "fair use" you must request permission from the copyright owner.
••••
Disclaimer: The information and opinions shared are for informational purposes only including, but not limited to, text, graphics, images and other material are not intended as medical advice or instruction. Nothing mentioned is intended to be a substitute for professional medical advice, diagnosis or treatment.