ER Editor: Given the blackout conditions in Gaza over the last couple of days ('Operation Al-Aqsa Flood' Day 22: Total blackout in Gaza as Israel cuts off all communications, carries out most brutal attacks since October 7), appeals have been made to Elon Musk to let Starlink operate there. See —
We don't know if this is true or not —
Elon Musk has just activated Starlink above Gaza.. Israel's crimes against humanity will be televised and thousands of children we be saved in hospitals…🔥🔥🔥 pic.twitter.com/FtX3w0Kmiu

— Pelham (@Resist_05) October 29, 2023
********
There have been weekend protests over the Gaza situation, as the article below shows about Turkey. Here's a Twitter selection —
CHICAGO RIGHT NOW🚨🇵🇸👊🏼 pic.twitter.com/TkY6OKScL5

— SJP Chicago- طلاب لأجل العدالة في فلسطين (@sjpchi) October 28, 2023
While I'm sure it's utterly harrowing to be in a Western city and have to witness political protests — and this one, like most of its kind, have many Jews at it — it's a bit more harrowing to a Palestinian in Gaza, endlessly bombed while food, water and medicine are blockaded. https://t.co/RypNOD9lgj

— Glenn Greenwald (@ggreenwald) October 28, 2023
US Jews protest Israeli invasion of Gaza in New York pic.twitter.com/JX0wXaw029

— Sprinter (@Sprinter99800) October 27, 2023
Wow. Absolutely MASSIVE demonstration in support of Palestine happening in London right now. 🇵🇸

Western politicians are attempting to ban these protests.

But the peoples of the world continue marching in HUGE numbers for Gaza. Stop the genocide! pic.twitter.com/o8eSq8I80v

— sarah (@sahouraxo) October 28, 2023
Hey Biden what do you say? How many kids u kill today?

Leeds 💕 for #FreePalestine #CeasefireNow #starlinkforgaza #CeaseFireInGaza
Erdogan United4Palestine #غزة_الآن #طوفان_الأقصى #Gaza_Genocide #ArmiesToAqsa #FreePalenstine #Gaza #غزة_تنتصر pic.twitter.com/1DT6esH2E2

— Shekh Sonu Khan (@slionshekh) October 29, 2023
🚨 𝗪𝗔𝗧𝗖𝗛: The largest pro-Palestinian protest, attended by 1.5 million people, took place in Istanbul, Turkey.#Gaza #Hamas #Palestine #Israel #CeasefireNOW #starlinkforgaza #غزة_الآن pic.twitter.com/LVN0OYeoxg

— Globe Eye News (@GlobeEyeNews) October 28, 2023
10,000 people marched in Berlin for Gaza today, police reported

This could be one of the biggest pro-Palestine marches in decades in Germany pic.twitter.com/p92FhHbz8E

— James Jackson (@derJamesJackson) October 28, 2023
Copenhagen, Denmark🇩🇰Another MASSIVE protest in support of Palestine, live from my street.🇦🇪

"Children in Gaza are entitled to LIVE! BOYCOTT Israel!"🇮🇱 pic.twitter.com/je2Qzr72kY

— Dr. Anastasia Maria Loupis (@DrLoupis) October 22, 2023
Thousands upon thousands of Indians protest against Prime Minister Modi, who supports Netanyahu's massacre of children in Gaza. pic.twitter.com/BsA1k7C94c

— Mark Alan Pearce (@PearceAlan1962) October 28, 2023
There were lots of Jews on the march saying: 'Not in My Name!'

In rejecting their right to protest at the killing of a child in Gaza every 15 minutes, is Ben saying: 'Yes, Very Much in My Name'?

Maybe he can clarify. https://t.co/sn35lN7svJ

— Jonathan Cook (@Jonathan_K_Cook) October 29, 2023
Thread

In different parts of India, protests were held against Israeli bombardment on Gaza but these demonstrations were not given space in the media.

Here, I'm sharing photos or videos of the protest.

This is the photo of the protest held by IUML in Calicut on Thursday. pic.twitter.com/tSggffC6I9

— Waquar Hasan (@WaqarHasan1231) October 27, 2023
Lyon, France… Dictator Emmanuel Macron has BANNED pro-Palestine protests…

This has not stopped millions from voicing their disgust to the Gaza massacre 🇫🇷 🇵🇸

— Pelham (@Resist_05) October 21, 2023
********
ER: Notice Erdogan's comment about the Davos Crowd and how Israel is also a victim of it. Wow. Remember Israel being used a

Pfizer Laboratory

…
Erdogan Vows To Get Israel Branded As "War Criminal" State, Also Blames West For Gaza "Massacre"
Turkish President Recep Tayyip Erdogan raged against Israel in a speech given before a pro-Palestinian rally on Saturday in Istanbul. He said he is preparing to introduce Israel as a "war criminal" on a world stage, at a moment the debate over Gaza continues heating up at the United Nations.
Erdogan said: "Israel, we will also declare you as a war criminal to the world, we are preparing for it, and we will introduce Israel to the world as a war criminal," according to a state broadcaster. Footage of the event shows that the turnout was huge, in the hundreds of thousands or possibly over 100,000 people gathered in the capital.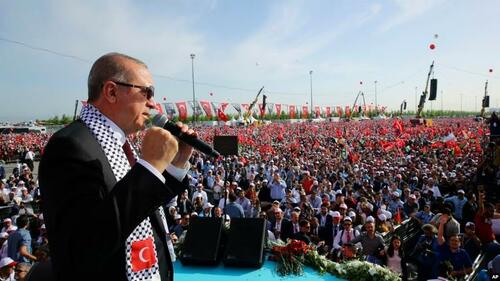 He stressed that the West is busy justifying the massacre of innocent people in Gaza, as the civilian death toll soars, saying "Israel is committing war crimes" as an "occupier." He added: the "West owes you, but Türkiye does not owe you."
"Those shedding crocodile tears for civilians killed in the Ukraine-Russia war are silently watching the deaths of thousands of innocent children in Gaza," he critiqued further, highlighting the double standard.
"I am asking West, do you want to create another Crusader War atmosphere?" Erdogan questioned, before saying provocatively: "The main culprit behind the massacre unfolding in Gaza is the West."
"Of course, every country has the right to defend itself, but where is justice? There is no defense but an open, and vicious massacre going on in Gaza." He went after Western elites and their ability to dress up everything they say in human rights rhetoric but which proves shallow:
Everyone knows that Israel is a pawn in the region that will be sacrificed when the time comes, he added.

"I said in Davos, you know how to kill. They know well how to kill."
Erdogan continues, "We are saddened for every civilian in any way, but Israel does not care."
This week the Palestinian Ministry of Housing issued a grim figure, saying that 20,000 buildings and homes in Gaza have been destroyed over several days of intensified Israeli airstrikes. Turkish media has tallied that in total since Oct. 7, over 200,000 homes and buildings have been leveled.
Erdogan has earlier confirmed he canceled a planned trip to Israel where he was expected to meet with his Israeli counterpart PM Netanyahu. This was part of a normalization and restoration of ties effort, but are now definitely off.
From Tel Aviv's perspective too, Erdogan's ratcheting rhetoric in denouncing Israeli war crimes will likely been seen as unforgiveable, even after this current crisis is over. Turkey and Israel have long clashed over the Palestinian issue, and these tensions have now exploded back into full force.
***********
••••
The Liberty Beacon Project is now expanding at a near exponential rate, and for this we are grateful and excited! But we must also be practical. For 7 years we have not asked for any donations, and have built this project with our own funds as we grew. We are now experiencing ever increasing growing pains due to the large number of websites and projects we represent. So we have just installed donation buttons on our websites and ask that you consider this when you visit them. Nothing is too small. We thank you for all your support and your considerations … (TLB)
••••
Comment Policy: As a privately owned web site, we reserve the right to remove comments that contain spam, advertising, vulgarity, threats of violence, racism, or personal/abusive attacks on other users. This also applies to trolling, the use of more than one alias, or just intentional mischief. Enforcement of this policy is at the discretion of this websites administrators. Repeat offenders may be blocked or permanently banned without prior warning.
••••
Disclaimer: TLB websites contain copyrighted material the use of which has not always been specifically authorized by the copyright owner. We are making such material available to our readers under the provisions of "fair use" in an effort to advance a better understanding of political, health, economic and social issues. The material on this site is distributed without profit to those who have expressed a prior interest in receiving it for research and educational purposes. If you wish to use copyrighted material for purposes other than "fair use" you must request permission from the copyright owner.
••••
Disclaimer: The information and opinions shared are for informational purposes only including, but not limited to, text, graphics, images and other material are not intended as medical advice or instruction. Nothing mentioned is intended to be a substitute for professional medical advice, diagnosis or treatment.