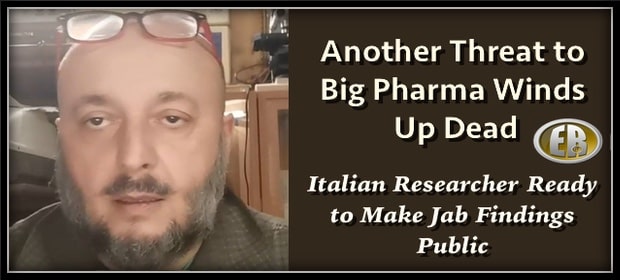 ER Editor: The report below references another Italian doctor and lung specialist, Dr. Giuseppe De Donno, who had been successfully using plasma from recovered Covid patients to cure the condition in new patients, and then 'suicided' himself. Here is the report we published in late July, 2021:
Readers may also be interested in this report from Italy24. We warn against their 'conspiracy theorist' take. It's been proven by several doctors and researchers that the Covid injections contain nano particulates, self-propelling technology, graphene oxide, etc. See There is a complaint about the death of Domenico Biscardi, a no-vax leader. It is from Senator Granato: Punishing the guilty.  See also this from Italy 24.
There is some doubt as to whether Domenico Biscardi is a doctor or not. According to the articles linked to immediately above, he has a background / training in pharmacology. Either way, he was an activist and researcher against vaccines, including the Covid injections, and was ready to reveal something. Other researchers have found what he found. He wouldn't appear to be off-base, and clearly he was threatening the establishment narrative.
Germany's Dr. Andreas Noack is mentioned below. We ran a report on him (see below) but it must be said that it isn't clear that he is dead. His wife put out a video almost immediately after he was alleged to have died violently, and it was frankly odd and not very convincing. At least, to us. See
********
Dr. Domenico Biscardi Found Dead in His Home After Announcement About Covid Vaccines
PROFESSION GENDARME
Dr Domenico Biscardi, geneticist and pharmacologist (ER: see our comment above), has died. He was known for his work on vaccines against Covid. According to initial, as yet unconfirmed, reports, he was found dead at his home. No illness or tumour: the cause of death appears to be 'a heart attack'.
Translation: Mourning in the world of scientific research, Dr Domenico Biscardi is DEAD,it seems he was found dead at his home. He realized and declared that he had definitive proof that nanodevices were contained in the💉. He wanted to press charges
Deuil dans le monde de la recherche scientifique, le Dr Domenico Biscardi est MORT,il semblerait qu'il ait été retrouvé mort à son domicile.
Il a réalisé et a déclaré qu'il avait la preuve définitive que des nanodispositifs étaient contenus dans le💉. Il voulait porter plainte🤔 pic.twitter.com/NRCFThoDlH

— A SAMEDI (@1001101OCDC) January 12, 2022
With his videos he had become an icon of the "vaccination" sceptics in Italy after disclosing particularly controversial videos and messages going against the current propaganda. The doctor had been determined to be dismantling the "official" media discourse on Covid, infections and vaccines for two years, since the beginning of the pandemic.
Dr. Domenico Biscardi, who had denounced certain components (nanodevices of unknown technology) present in Pfizer's vaccines and was ready to file an official complaint with the European Commission, was found dead at his home shortly afterwards…
This is reminiscent of the case of Dr. Andreas Noack, a renowned Austrian chemist who died a few hours after denouncing the risks of graphene hydroxide… https://reseauinternational.net/le-dr-andreas-noack-chimiste-autrichien-renomme-est-mort-quelques-heures-apres-avoir-denonce-les-risques-de-lhydroxide-de-graphene/
Apparently, in the days leading up to his death, Dr. Biscardi received checks from the NAS for some, in his opinion, very important research he was conducting. At least that is what Domenico Biscardi himself had announced.
Translation: "ALARM
DEAD Dr #DomenicoBiscardi, NOVAX Doctor and Scientific Researcher
Found lifeless in Naples, Days ago he would have received a visit from the #NAS like Dr #DeDonno😔who had no Illness, nor Suicidal Will.
"ALLARME"
MORTO Il Dottor #DomenicoBiscardi
Medico NOVAX e Ricercatore Scientifico
Trovato senza vita a Napoli
Giorni addietro avrebbe ricevuto visita dei #NAS
come il dottor #DeDonno😔
che non aveva Nessuna Malattia,
ne Volontà Suicida.

segue;🚨📢🦠🧲📡https://t.co/G9hIfm3d0s

— Laperlaneranera (@laperlaneranera) January 12, 2022
Many people flooded his social profile with messages of condolence. "Dr. Domenico Biscardi has passed away, he announced a few days ago that he had made an important discovery about the Covid serums, then committed suicide. Like De Donno. Rest in peace, a hero, as you say."
And again: "I have just learned of the sudden death of Dr. Domenico BISCARDI, the researcher who was investigating, with his Spanish and Russian colleagues, graphene and the other substances contained in the magic serums. Thank you, dear Domenico, for your tireless commitment and for the great lesson in life that we all gave by facing, with our heads held high and never backing down, the enormous risk that a researcher and disseminator of the truth runs."
Translation: Dr Domenico Biscardi, who had denounced certain components (nanodevices of unknown technology) present in Pfizer's vaccines and was ready to lodge an official complaint with the European Commission, was found dead at his home.
Le Dr Domenico Biscardi, qui avait dénoncé certains composants (nanodispositifs de technologie inconnue) présents dans les vaccins Pfizer et prêt à déposer une plainte officielle auprès de la Commission Européenne a été retrouvé mort chez lui. pic.twitter.com/g2dW0SS87Y

— WS 10121 (@10121Ws) January 12, 2022
"Great mourning in the world of medical and scientific research, Dr. Domenico Biscardi has passed away, it seems he was found dead at his home," wrote Massimo on Facebook, who then backed up:
"Just a few days ago he made a short video in which he said he had definitive proof that nano-devices of unknown technology were contained in the dried vaccine, and he said he was ready to go to the European Commission to file a formal complaint to this effect."
We are not making any claims to date and invite everyone who reads this article to do their own research. Let us not forget that we are above all seekers of truth, sentinels of the people, citizen journalists!
Via Il Sussidiario Source Area Napoli
Source Le Grand Reveil
************
••••
The Liberty Beacon Project is now expanding at a near exponential rate, and for this we are grateful and excited! But we must also be practical. For 7 years we have not asked for any donations, and have built this project with our own funds as we grew. We are now experiencing ever increasing growing pains due to the large number of websites and projects we represent. So we have just installed donation buttons on our websites and ask that you consider this when you visit them. Nothing is too small. We thank you for all your support and your considerations … (TLB)
••••
Comment Policy: As a privately owned web site, we reserve the right to remove comments that contain spam, advertising, vulgarity, threats of violence, racism, or personal/abusive attacks on other users. This also applies to trolling, the use of more than one alias, or just intentional mischief. Enforcement of this policy is at the discretion of this websites administrators. Repeat offenders may be blocked or permanently banned without prior warning.
••••
Disclaimer: TLB websites contain copyrighted material the use of which has not always been specifically authorized by the copyright owner. We are making such material available to our readers under the provisions of "fair use" in an effort to advance a better understanding of political, health, economic and social issues. The material on this site is distributed without profit to those who have expressed a prior interest in receiving it for research and educational purposes. If you wish to use copyrighted material for purposes other than "fair use" you must request permission from the copyright owner.
••••
Disclaimer: The information and opinions shared are for informational purposes only including, but not limited to, text, graphics, images and other material are not intended as medical advice or instruction. Nothing mentioned is intended to be a substitute for professional medical advice, diagnosis or treatment.